SAIL-1969-1974 photo album
Stanford Artificial Intelligence Lab
SAIL resided in the D.C.Power Lab.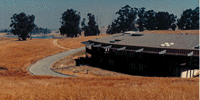 D. C. Power Lab
The former site of SAIL. "Hackers thought this was very funny because the obvious connection to electrical engineering was nonexistent --- the lab was named for Donald Clinton Power a telephone company CEO."

Line printer LPT:
MAPS of the D.C.Power Lab office assignments, 1972 to 1979.

Building and roadway slide show of my images at the Stanford A.I. Lab 1970 to 1974,
while working on mobile robot vision ( the Stanford Cart ).
No narration, no text, sheer background environmental with default low key music.
VIDEO. 8 minutes.

Here is an artsy noir Super 8 film of the D.C.Power Building as it was in the 1980s.
Camera by Rachel Boughton. Music by John Chowning CCRMA.
Digitization and editing by JEG Johannes Goebel at Rensselaer Polytechnic Institute 2006.
VIDEO. 51 minutes.

Snapshots I took while at SAIL in the early 1970s.
Rogues Gallery
A. 13 thumbnails : jmc les als bp ken kay jaf jam + Gary Feldman
B. 20 thumbnails : wfw joe rbt tes rbn kkp dav 2-AI-staff gil add jlr qed lcs rph rfs vic lou
C. 13 thumbnails : rfs dwp dcs pmp srs qib add 2314 ibm wfd rbc
D. 6 thumbnails :
Z. 17 thumbnails :
Bounce-Bounce
Volley-Ball 6 thumbnails :
Foonly - Dave Poole and Phil Petit discussing the Super Foonly PDP-10.